Stripping & Crimpingmachine PP3+
The pneumatic PP3 + is a highly reliable stripping and crimping machine for processing taped longitudinal and cross contacts in the cross-sectional area from 0.03mm² to 1.5mm² (AWG 32-16).

The machine is based on the principle of a toggle press. The upper and lower tool holders move in opposite directions, which guarantees the highest level of processing quality.

The start cycle is triggered by a sensor. The clamping jaws hold the strand, the stripping and crimping process starts automatically.

After crimping, the jaws open automatically and the crimped strand is ejected.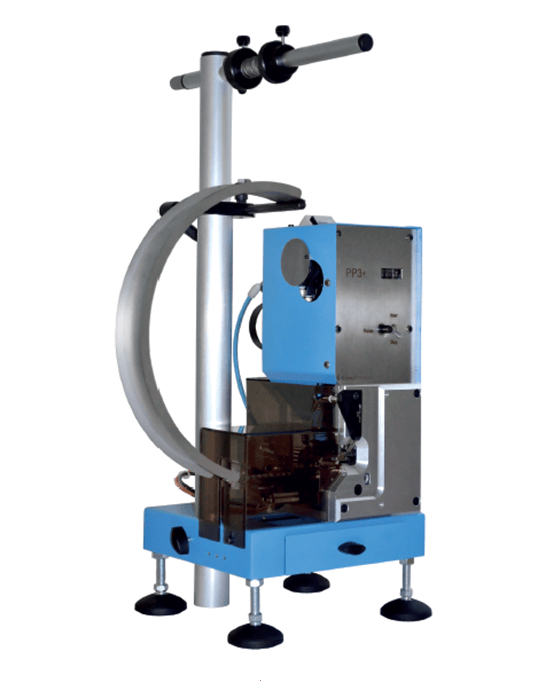 Technical data

>

Cross section

0,03-1,5mm² (AWG 32-16)
>

Stripping length

max. 12mm (0,48″)
>

Stripping length of cross tool

min. 15mm (0,59″)(

contact

dependent

)
>

Stripping length of longitudinal tool

min. 11mm (0,43″) (

contact

dependent

)

> Crimp height adjustment

0,04 mm (optional 0,02mm)

> Max. Roll width

190mm (7.4″)

> Max. Roll diameter

750mm (29.5″) / /Standard)

> cycle time

ca. 3.000 cycles/h
> pressure
4-6 bar

> Air consumption per cycle

1,45 NL (5 bar)
>

noise level

75 db
> options
*

Crimp force monitoring

*

different types of jaws

:

Plasma surface for short stripping length

*

Contact

oilers

> dimensions (LxWxH)
250 x220 x 450mm (9.9 x 8.7 x 17.7″)
> weight
16 Kg (32.2 lbs)
> CE-

compatibility

The PP3 + fully complies with the CE machine guidelines (mechanical safety)

> important note
We recommend having your cable sampled by us in case of doubt