Fully automatic crimping machine AM 300
Due to high quality and flexibility, packed in a simple programmable machine, the AM 300 allows to realize every requirement of the customer. Developed on a compact and simple basis, it is possible to install up to 5 stations. The equipment is available for crimping machines, tinning stations, seal stations, plastic housing postpone, as well as the possibility to perform double stops. The direct connection of an inkjet printer or hot stamping device is available.
The open access to the individual stations allows a quick change of the tools in the crimping machines via a quick clamping system.
Thanks to a strong servo motor, it is possible to achieve a speed of cable transport without damaging the cable. Optionally, roller drive or belt drive is available here. The acceleration ramp, deceleration ramp and speed with length measurement are managed by the main controller and an encoder.
The AM 300 is very simple, making the operation pleasant to learn. The new guard system guarantees a very easy access to the machine to make service or adjustments.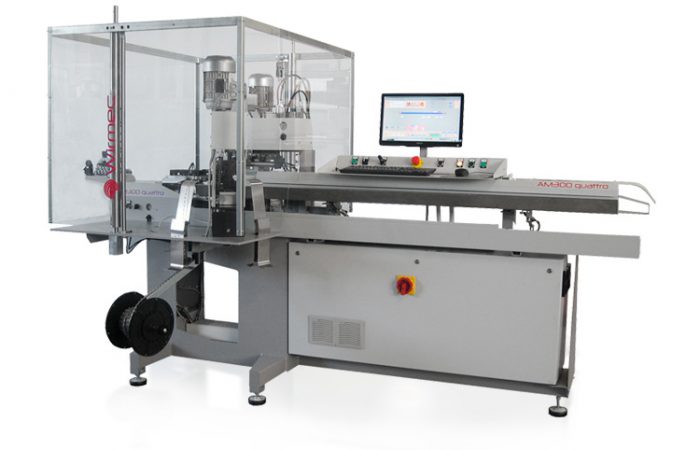 Processing parameters


› Cross-section range
0,13 mm² – 2,5 mm²
› Braid lenght min.
15 mm, strip both sites

2 mm


25 mm, crimp one site
34 mm, crimp both sites
› Strip length
0,1 mm – 40 mm Seite 1
0,1 mm – 20 mm Seite 2
› Speed
8 m/s
Technical machine data


| | |
| --- | --- |
| › Power supply | 400 V / 50 – 60 Hz 5 kVA |
| › Pneumatic pressure | 6 – 7 bar |
| › Dimensions (in mm) | L:3.000 W:1.400 H:2.000 |
| › Weight | 1.100 kg |
| › Noise | < 75 db |