With the pneumatic crimping tools AC 25 and AC 100 and the respective table models AC 25T and AC 100T, ferrules can be pressed quickly and without tiring. The two lightweight and handy models AC 25 and AC 100 are ideal for control cabinet construction. For the table models AC 25T and AC 100T the release takes place by means of a foot switch, whereby both hands are available for the assembly of the conductors with wire end ferrules.
All four units are maintenance-free and ensure reliable compression with a pressure of 4 – 6 bar. Due to the stable polyamide
Housing they master even the harsh industrial use easily.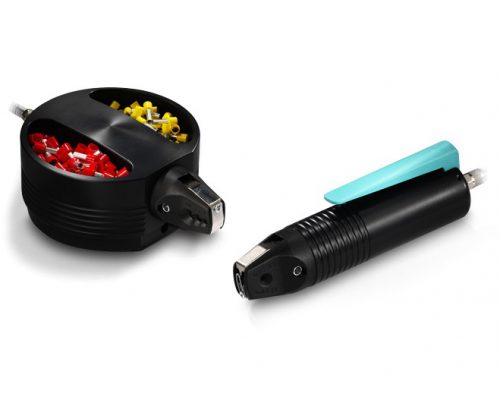 Technical data

Model AC 25 & 25T

| | |
| --- | --- |
| › Crimp range | 0,25 – 2,5 mm² (24 – 14 AWG) |
| › Weight AC 25 | 0,4 kg |
| › Weight AC 25T | 1 kg |
Model AC 100 & 100T

| | |
| --- | --- |
| › Crimp range | 4 – 10 mm² (12 – 8 AWG) |
| › Weight AC 25 | 0,4 kg |
| › Weigth AC 25T | 1 kg |