The BERI.CO.CUT is a high-precision cutting device for shields and braids, as they are preferably found in coaxial cables. In particular, the shielding of high-voltage cables for the new generation of hybrid and electric vehicles by means of the BERI.Co.CuT reliable, cutting in seconds and clean.
The working principle of the device prevented by design any violation of underlying layers of the braid (such as dielectric, other shields, inner conductors, etc.) and the use of adapted to the respective cable tools allows the separation process within seconds.
The Berı.Co.Cut is designed to process cables with a diameter of approx. 4.0 to 23.0 mm (cable-dependent).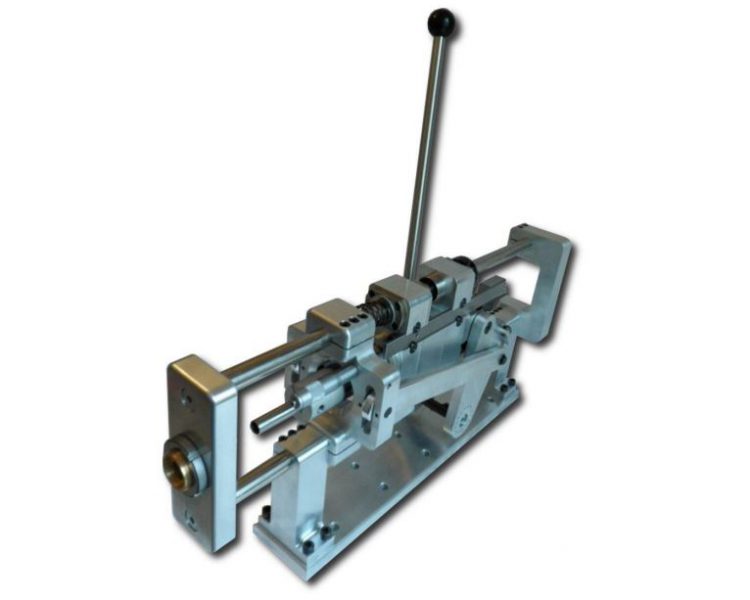 Features
safe cutting of shields and braids, in particular of coaxial cables
the feeding of the wire, the pushing back of the braid and the separation process itself are visible and verifiable by the operator
the dimensioning of the device is sufficient for all known applications
Damage to the insulation layer below the mesh is not possible due to the design
also braids over non-round lines, such. Litz wires or similar be safely separated
the cut edges are exact and clean
robust, industrial design of the device
Handling
Cable diameter of approx. 4-23 mm machinable Processing speed comparable to machine processing Pushing back of the braiding is done manually
the workspace is freely accessible; This makes it possible to easily identify and eliminate any faults, etc.
zur Unterstützung des Arbeitsprozesses kann per Hand in den Arbeitsbereich eingegriffen werden
to support the work process can be intervened by hand in the work area
for partial triggering stop against outer jacket possible (optional)
independent of compressed air, electricity and other media
The low weight (about 18.0 kg) allows flexible use at different workplaces maintenance-free operation (by using, for example, maintenance-free ball bearings) long service life
Functions expandable at any time due to modular design
Costs
Low acquisition costs
purely mechanical solution (no use of motors etc.) few variants of the tools used no time-consuming maintenance costs no energy costs
Locking sleeve and cut done by a tool no separate cutting blades required
Safety
no restriction of safety aspects compared to closed systems
No motor-driven functional elements, thus eliminating a whole series of risks
Each individual step is performed manually and thereby controlled by the operator
the work area is completely visible
keine Geräuschbelastung durch z.B. Motoren
low susceptibility to interference
Ergonomics
the unit can be swiveled to the side so that an optimal working position can be set
the hand lever can be mounted as needed for right or left handed users
the working angle of the hand lever is adjustable