The ring winder KW 500 is a semi-automatic cable winder to process cables into containers. The new generation of the KW 500 is equipped with a completely new drive technology, which gives us a higher winding capacity. The system only works in conjunction with our SSC 4000, TS90 and TS200 cutting and stripping machines.
The machine operator has only the task to remove the container after each cycle of the machine. It is not possible to bind containers with this machine.
The system has an automatic START by a photocell and therefore does not require a manual restart of the operator. By a sensor, a semi-automatic start is provided as standard.
The winding material is wound on lowerable and adjustable axes, with the help of the desired inner diameter of the container can be set.
The winding speed can be adjusted on the control panel. A brush system tightens the containers during the winding process. The machine is supplied with legally standardized protection device.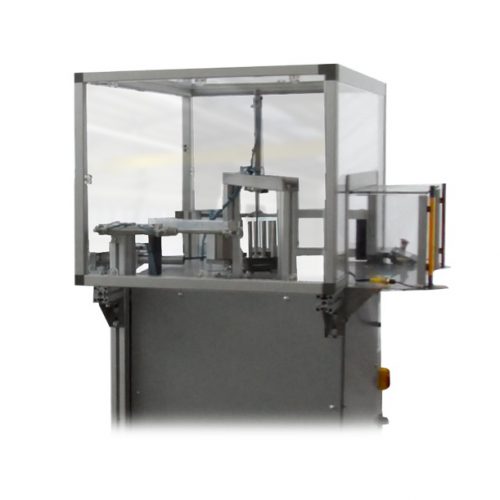 Technical data

| | |
| --- | --- |
| › editable wires | Round cable, flat cable |
| › Cable diameter outside | max. 14 mm |
| › Materials | PVC, Kinar, Teflon, silicone, neoprene |
| › Winding length min. | 1.200 mm |
| › Winding length max. | depending on diameter, inner core, cable diameter & cable condition |
| › Thread diameter inside | 120 – 300 mm |
| › Thread height max. | 100 mm |
| › Winding weight max. | ca. 25 kg (depending on cable) |
| › Power supply | 230 Volt monophase +/- 5 % – 50/60 Hz |
| › Drive | via brushless motor (1 kW) |
| › Pneumatic connection | 6 bar |
| › Dimensions  (in mm) | L:1.000 W:1.200 H:1.800 |