The universally replaceable pneumatic marking device PMG.PRINT.50 uses a hot stamping process and is designed for one- and two-sided printing on strands, cables and hoses. The high-quality design delivers precise printing results and is used in industrial production. The control in a 19 "housing is modularly expandable up to the operation of multi-head systems.
In combination with e.g. Cutting devices, the PMG.PRINT.50 is also for
the printing and accurate cutting of shrink tubing used. PMG.PRINT.50 is being built in two versions: "S" version is equipped to accept single embossing stamps and double-sided printing as well as ring printing. "R" version is designed for embossing wheels and one-sided printing.
All functional parts are easily accessible and the device can be converted in a few simple steps.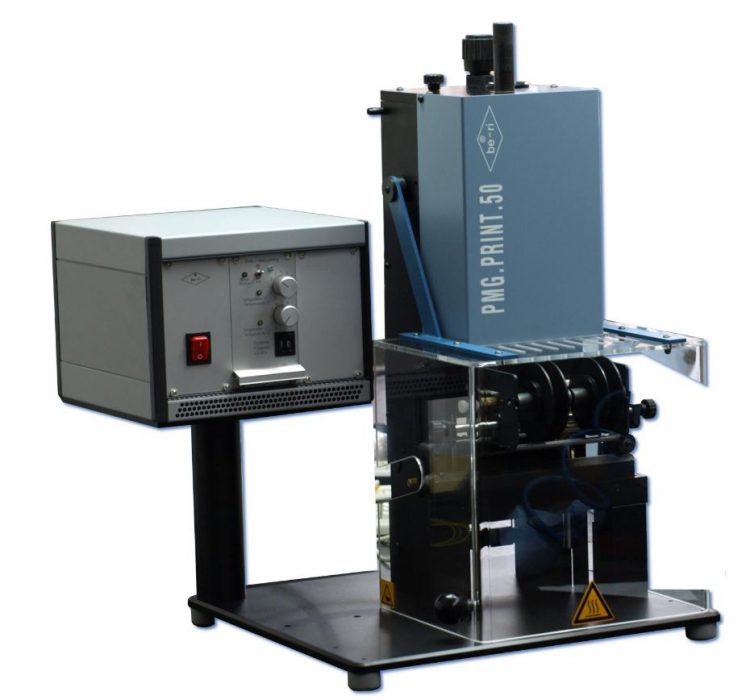 Technical data


› Operating pressur
2-6 bar, adjustable
› Cycle time
0 – 9,9 sek., digital in 0.02 sec. steps
› Print temperature
70 – 200° C, adjustable
› Print time
0-1,98 sek., digital in 0.02 sec. steps 4 x
› Operating pressur

50 W Version "S"

1x250W Version "R'

› Dimensions (WxDxH)
500 x 550 x 590 mm
› Printing width PMG.PRINT.50 S
90 mm
› Special version up to 200 mm
on request
› Printing width PMG.PRINT.50 R
up to 85 mm
› Ring printing
possible
Technical design
Printhead
construction on base plate
exactly adjustable stroke limitation
precise film feed
contact pressure control
separate winders for 2 films
Self-centering guide tube holder
Control
separate installation in 19 "housing
Bus-circuit board
Control board with autotact
heater
Connection for cutting machines etc.