The universally applicable pneumatic labelling unit, Pmg.Multi.Colour, has been developed for double-sided printing of coloured text, ring and bar codes on cables, single strands and tubes.
The use of recycling material for sheathing of cables and single strands results in a decrease in colour inten-sity. Purely white cables, for example, are hardly available these days. Instead of using different col-oured cables, monochromatic ones which have been printed with coloured labelling can often be used.
This leads, among other things, to a reduction in stock levels required, resulting in lower warehousing ex-penses. With this trend in mind, Rittmeyer has devel-oped the new pneumatic colour printer Pmg.Multi.Colour.
Advantages and special features
replaceable cartridge system
monitoring of foils(optional)
pre-heating time approx. 6 min.
single and double-sided printing possible
very short printing times (from 0.2 sec.) possible
very short resetting time (one minute)
quick exchange of foils and colours
cartridges are replaceable without exchange or removal of cables
in production-line with stripping- or cutting-machines possible
printing blocks can be adjusted individually
labelling with circular, bar and text codes possible
labelling of cables with coloured text, ring or bar codes reduces the need to stock cables in a variety of colours
reduced warehousing expenses because of lower de-mands on administration and storage space
more favourable conditions of purchase
cables, tubes etc. can be inserted from the front
clear marking indicates foil positioning
set-up mode
less cable waste
pneumatic transport of foils, adjustable for 1 to 16 mm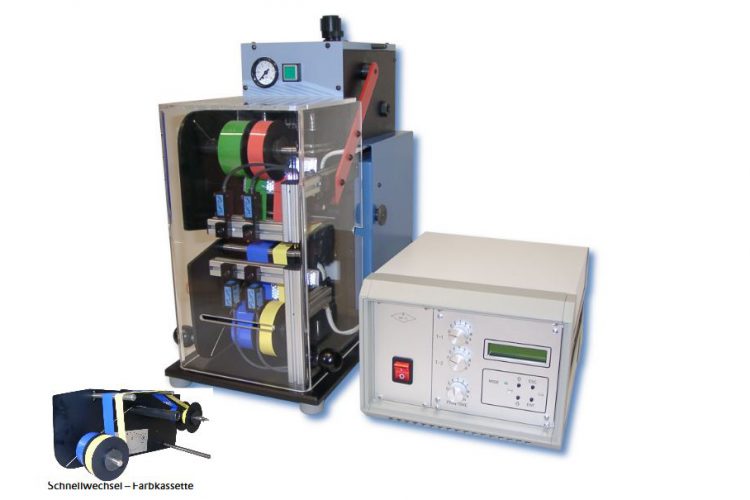 Technical data


› Operating pressur
2-6 bar
› Printing dimensions
max. approx. 80 mm
› Wire-ø
up to 10 mm (bigger ø on request)
› Printing time
0 – 2,0 sec.
› Printing pressure
top / bottom each 120 Newton at 6 bar
› Auxiliary heating
laid out for 2 x 300 W
› Printing temperature
80° – 180°
› Resetting time
approx. 1 minutes
› Pre-heating time
approx. 6 minutes
› Manual trigger
for set-up operation
Technical data
two replaceable cartridges with a capacity of up to four foils (depending on foil width)
2 printing block mounts
2 heating elements of 250 W and 24V each
8 braking units (with integrated mounts and guides for foils as well as turning, winding, unwinding and brak ing functions)
forward feed of foils adjustable from 1 to 16 mm
one roll for opposed bearing with pneumatic fee