Stripping & twisting machine Av.Twist.15
The Av.Twist.15 is a stripping and twisting machine for single strands and cables with cross sections from ca. 0.03 mm2 to 4 mm2 or 4.5 mm outer cross section (depending on the insulation features). The stripping and twisting process is released by the conductor that is to be stripped via a micro switch.
The stripping head is constructed in such a way that the knives moves towards each other in linear fashion ensuring clean stripping and twisting results.
Advantages and Special Features
linear adjustment of blades and centering – centring nozzles only at single strands with very thin isolation or at difficult cables required
paraboloid of revolution instead of cone for optimising the line of force
all control elements are easily accessible
adjustable spring loading of centering function
distance of blades to front edge of covering hood: 6.5 mm, this enables processing of very short cable ends
 for use with various blade types:
– v-blades
– die-blades
– flat blades
easy decoupling of the stripping and twisting func-tions
easy, quick and precise ( +/- 0.1 mm ) adjusting of strip length possible – even while the machine is in operation
precise adjustment to the diameter of strands by means of a micrometer screw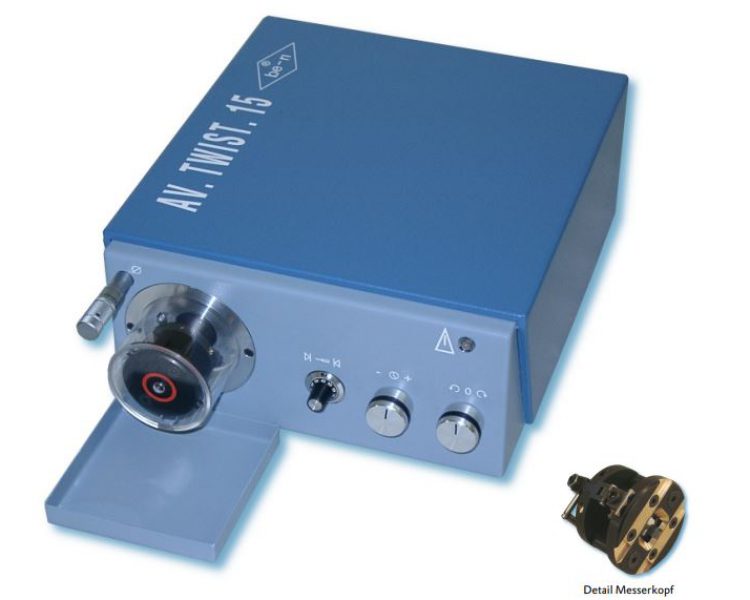 Technische Daten

› Stripping range
ca. 0.03 mm² to 4 mm² or up to 4.5 mm outer cross section (depending on insulation)
› Stripping length
1,5 – 15 mm
› Operating voltage
230 V
› Capacity reception
30 W
› Cycle time
adjustable from 0.3 to 3 sec.
› Sound level
< 60 dB(A)
› Dimension W x D x H
242 x 261 x 127 mm
› Weight
7,9 kg
› Applicable blades
– flat blades (standard)
– prismatic blades
– profile blades