Cutting & stripping machine SSC4000
The SSC4000 is an automatic and electronic cutting and stripping machine capable of handling single-core and multi-core cables of 1 – 15 mm outside diameter.
All movements of assemblies such as (feed unit and cutting unit) are controlled by powerful motors that always confirm a perfect and constant cycle, even if the cable has to be machined with a considerable outside diameter or difficult insulations.
All necessary parameters, such stripping length, total length, cable cross-section, etc. are entered via a touchscreen monitor.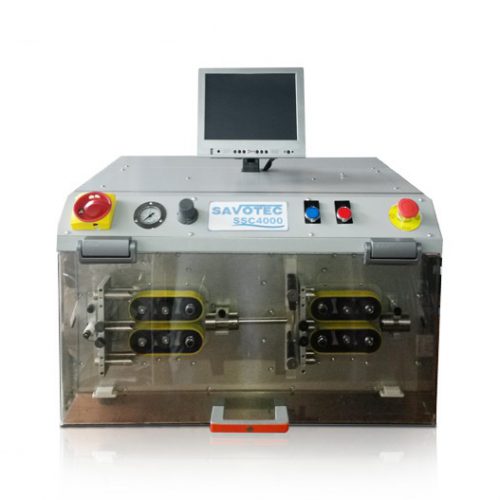 Machine parameters

| | |
| --- | --- |
| › Progr. overall length | 60 mm – 99 m |
| › Tolerance | 0,2 % |
| › Cutting length site 2 | max. 250 mm |
| › Cutting length site 1 | programmable |
| › Quantity input | 1 – 99 |
| › Increasing quantity | 1 |
| › Cable feeding speed | 3.000 mm/s max. (adjustable) |
| › Rated capacity | 1.800 W |
Processing parameters

| | |
| --- | --- |
| › Processable cable | braid, multi-core cable |
| › Cable cross section | 0,5 – 50 mm² |
| › Outer diameter | min. 1 mm – max. 15 mm |
| › Materials | PVC, teflon, silicone, etc. |
Technical data


| | |
| --- | --- |
| › Power supply | 230 V monophase ± 5 % – 50/60 Hz |
| › Compressed air | 3,5 – 8 bar (51 – 116 PSI) |
| › Compressed air consumption | 1,5 NI/cycle – 6 bar |
| › Dimensions (in mm) | L:700 W:650 H:480 (exkl. Monitor) |