With the SP-120 model, cables, flat cables, hoses and tubes can be cut to length. The special, extremely reliable and extremely strong cutting system can handle up to 470 kg or 6 bar and is the result of many years of experience. The system has an incredibly large processing area of ​​about 30 mm high and 130 mm wide. This allows the processing of a wide range of materials.
The feed unit is driven by a powerful servomotor. This is also responsible for the quality, both for individual pieces, as well as for the constant cutting length in high quantities. In order to avoid any damage or deformation of the material, the feed is implemented by a system of conveyor belts consisting of a synthetic polymer. In addition, the bands are adjustable in height. The processed carbide knives (standard) guarantee a high durability and ensure a perfect cut. 

The SP-120 comes standard with a cable end kit, a protective cover made of Plexiglas and a touch screen monitor.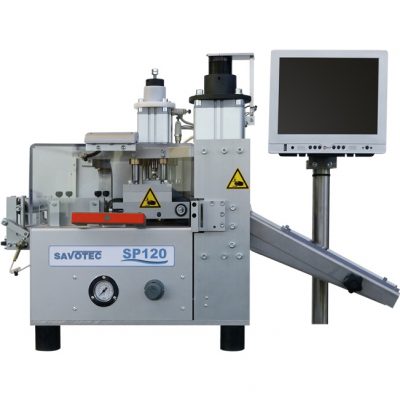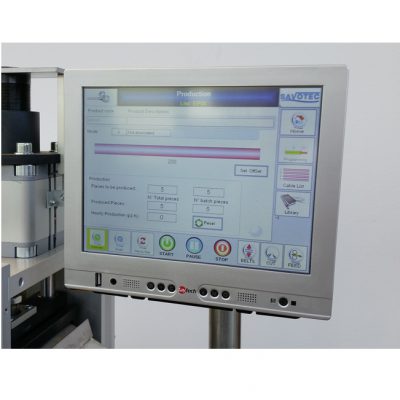 Processing parameters




| | |
| --- | --- |
| › Processable cables | Cables, ribbon cables, hoses, pipes |
| › Machine passage | 40 mm height, 130 mm width |
| › Programmable total length | 1 mm – 99 m |
| › Progression length | 1 mm |
| › Tolerance | 0,5 % |
| › Piece number entry | 1 – 99.999 |
| › Increasing quantity | 1 |
| › Feedrate | 1,8 mm/s (cable-dependent) |
Technical machine data

| | |
| --- | --- |
| › Service | Touchscreen–Monitor |
| › Power supply | 230 V monophase ± 5 % – 50/60 Hz |
| › Rated capacity | 1.500 W |
| › Compressed air | 4 – 8 bar (58 – 116 PSI) |
| › Compressed air consumption | 3 NI/Cycle – 6 bar |
| › Noise level | ≤ 70 dB |
| › Dimensions L x W x H (in mm) | 400 x 600 x 700 |
| › Weight | ca. 90 kg |